こんにちは
Backgammon Studio keeps improving and today I have updated the version number to 3.8 with these fine improvements:
Backgammon Studio 3.8
Improvements since 3.7:
New actiontags:

Make an anchor or make a point - Suggested by Aurélien Bonnet.
Give up anchor for a hit or not

New positiontags:

Opponent has an outfield blot.
You have an outfield blot.

New training tracks:

Anchor cubed! You have an anchor and have been cubed! Surely you can take anything?
Opposer! Slotting the 18 point can sometimes disrupt your opponents plans. Is now the time?
Outfielder! Send a checker into the opponent outfield and pray that it survives? Could be worth a try!

Introduction videos! A lot of introduction videos has been created to the different sections on Backgammon Studio.
Educational videos! A new section with an overview of educational videos found on youtube.
Incomplete match poke! The number of incomplete matches is growing rapidly in the database. Use this to get this number down!
Large stacks with numbers should be displayed better now and also on images/thumbnails of positions.
Added option to remove friends.
More text area clear (thrashcan) buttons.
You can now turn off the error feedback sounds while keeping other sounds. These can hurt a bit!
Online DMP Champs! The online match PR list has been split into another section for DMP matches.
Online Speed Champs! The online match PR list has been split into another section for Speed matches.
Share positions on facebook.
Timed training tracks now with more time! 20 seconds to come up with the right answer. Still not easy! Suggested by Michael Krakus.
Week in review: position filters.
Bugfixes:

If you managed to get more than 6 checkers on the bar the board graphics would break down. I did!
You could drag&drop (tablets) checkers onto an oppoent 2+ stack. Server would reject the move as invalid anyway. Thanks Shahab!
Some images

You can now compete for the DMP champion title!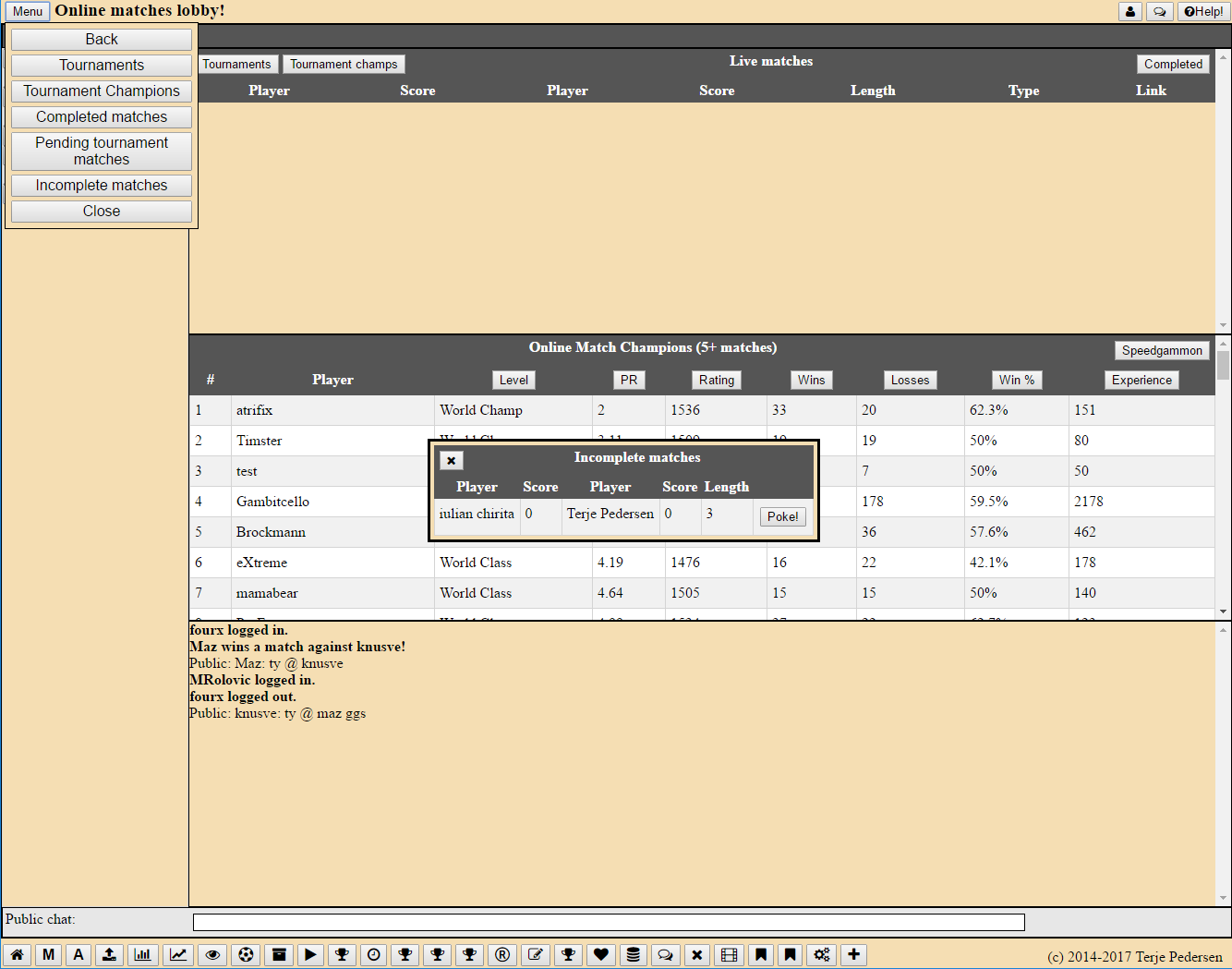 A lot of matches have been played on Backgammon Studio which is cool! But a lot of incomplete matches have also piled up. Now you can poke your opponents in these matches too.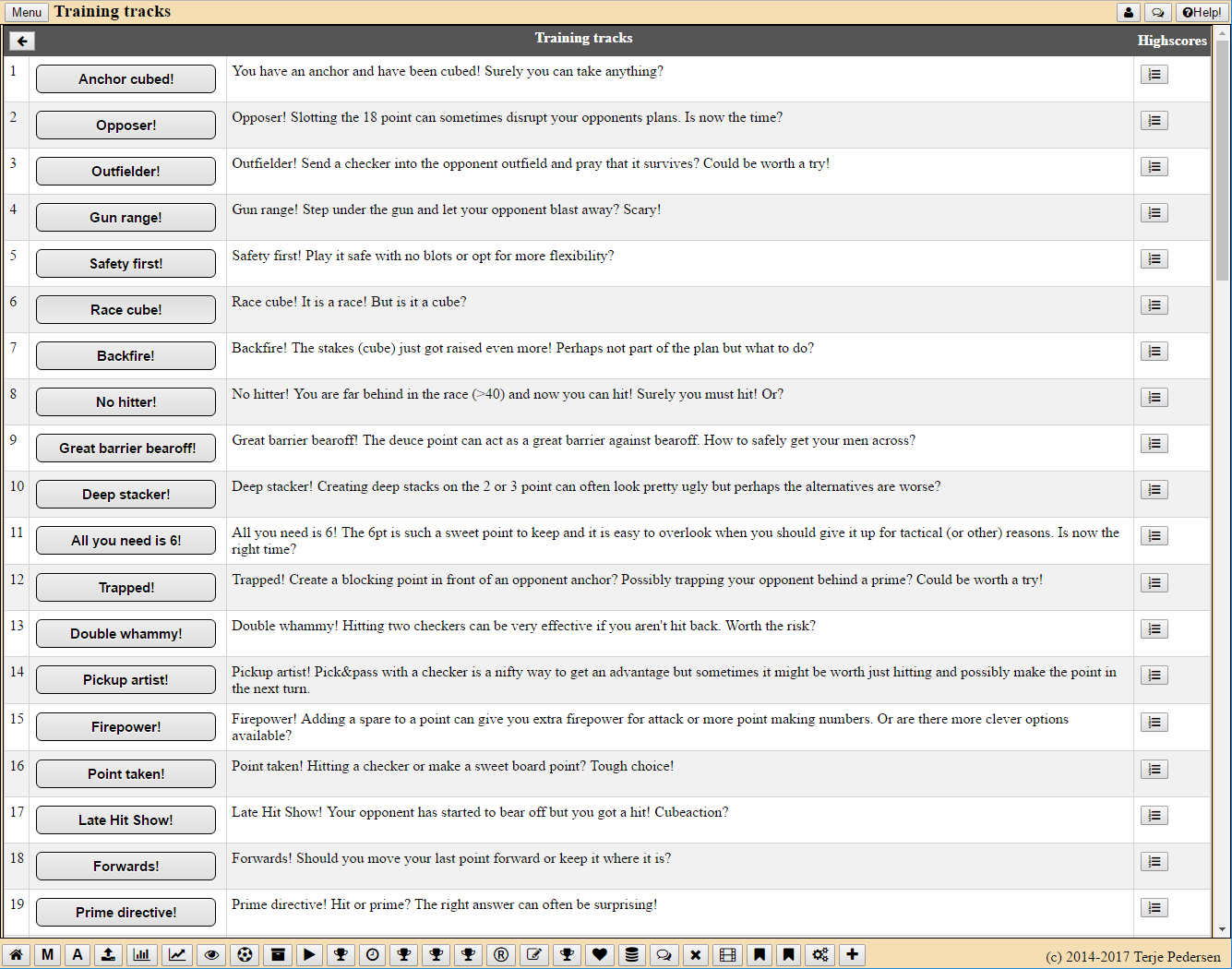 More sweet training tracks!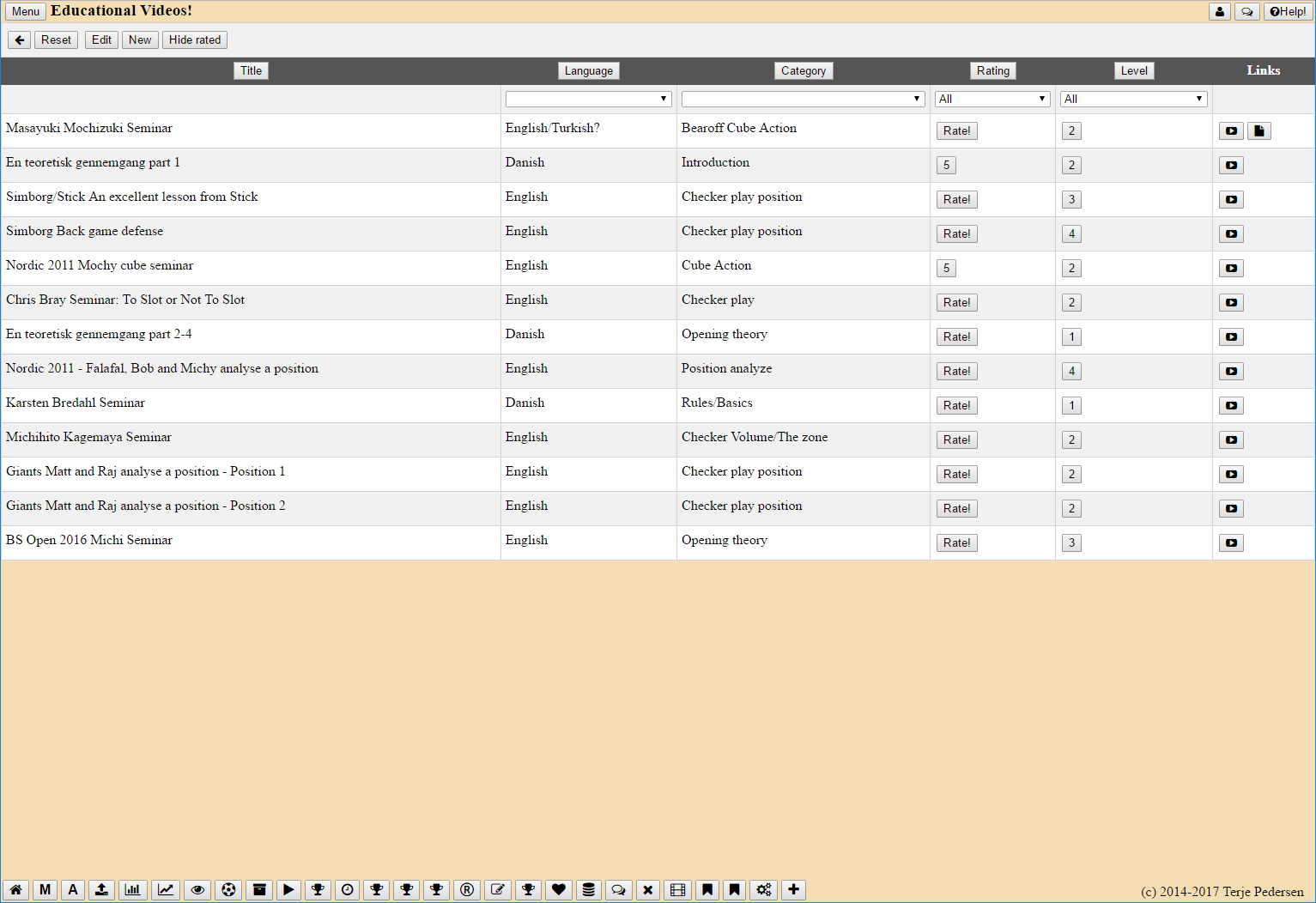 A lot of cool educational videos out there on youtube! Some of them are rather hard to find so I made a section which makes them easier to find.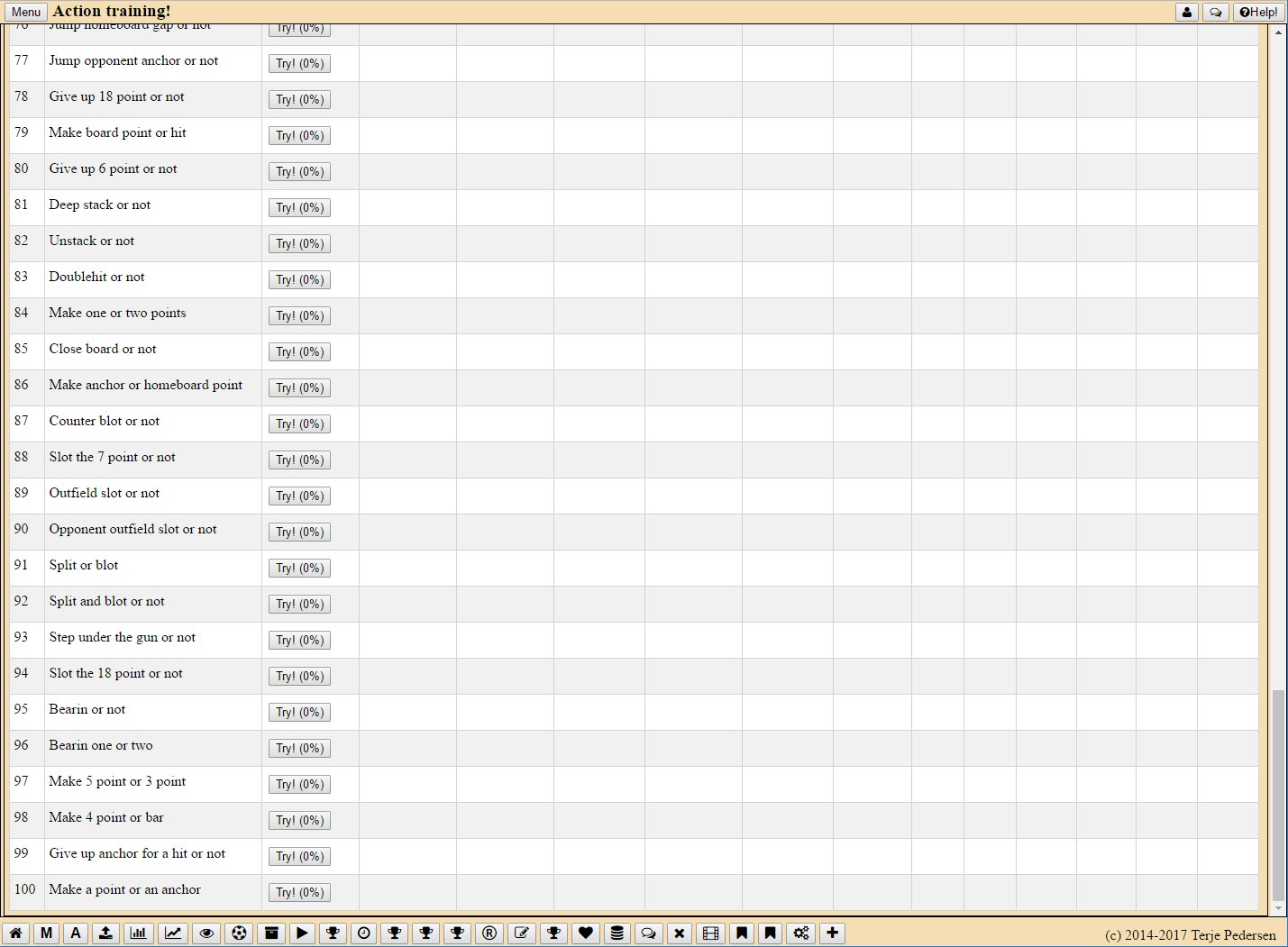 There are now 100 action tags which I think is pretty cool!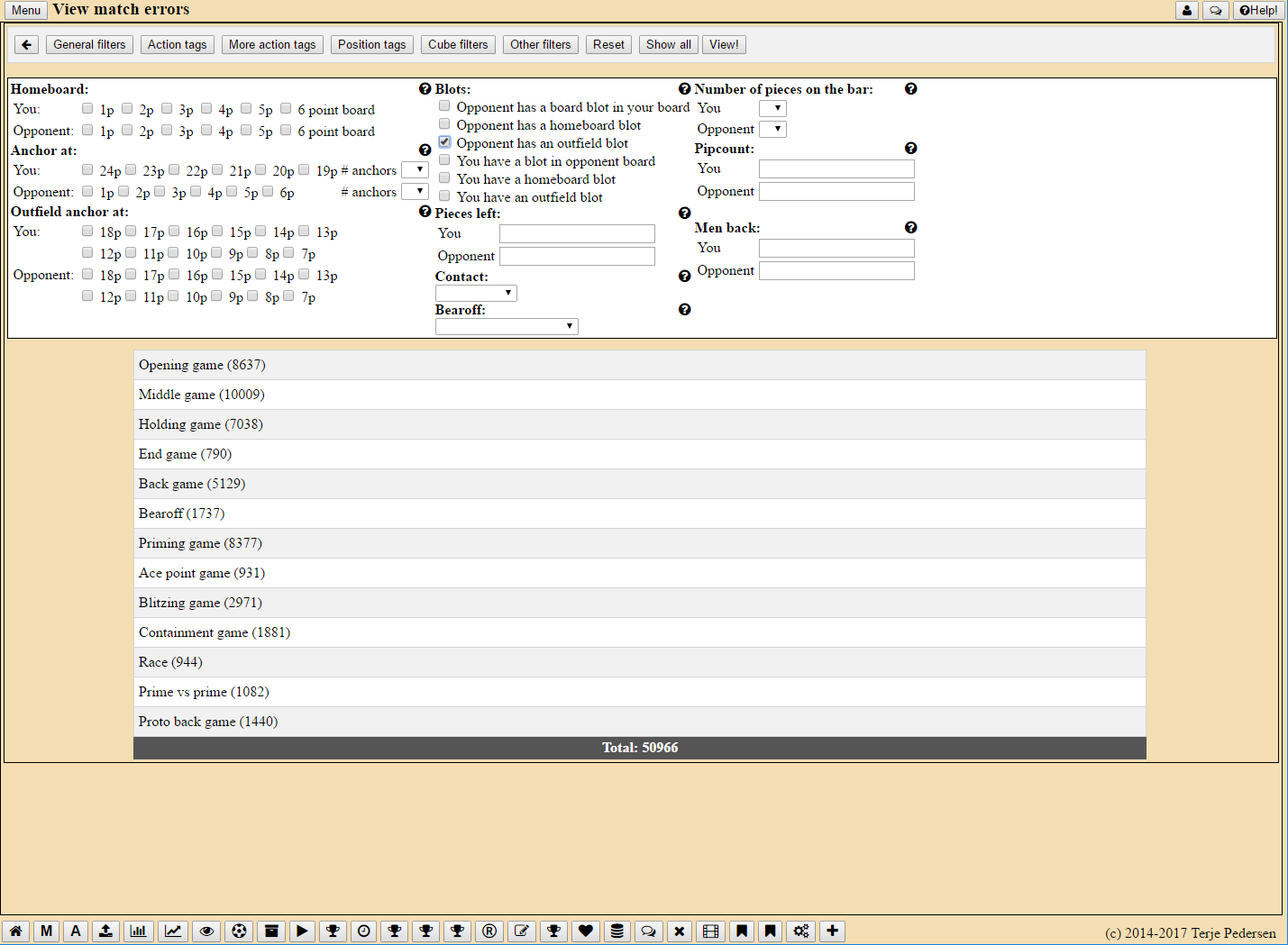 2 more positiontags!

Week in review got a couple of new position filters.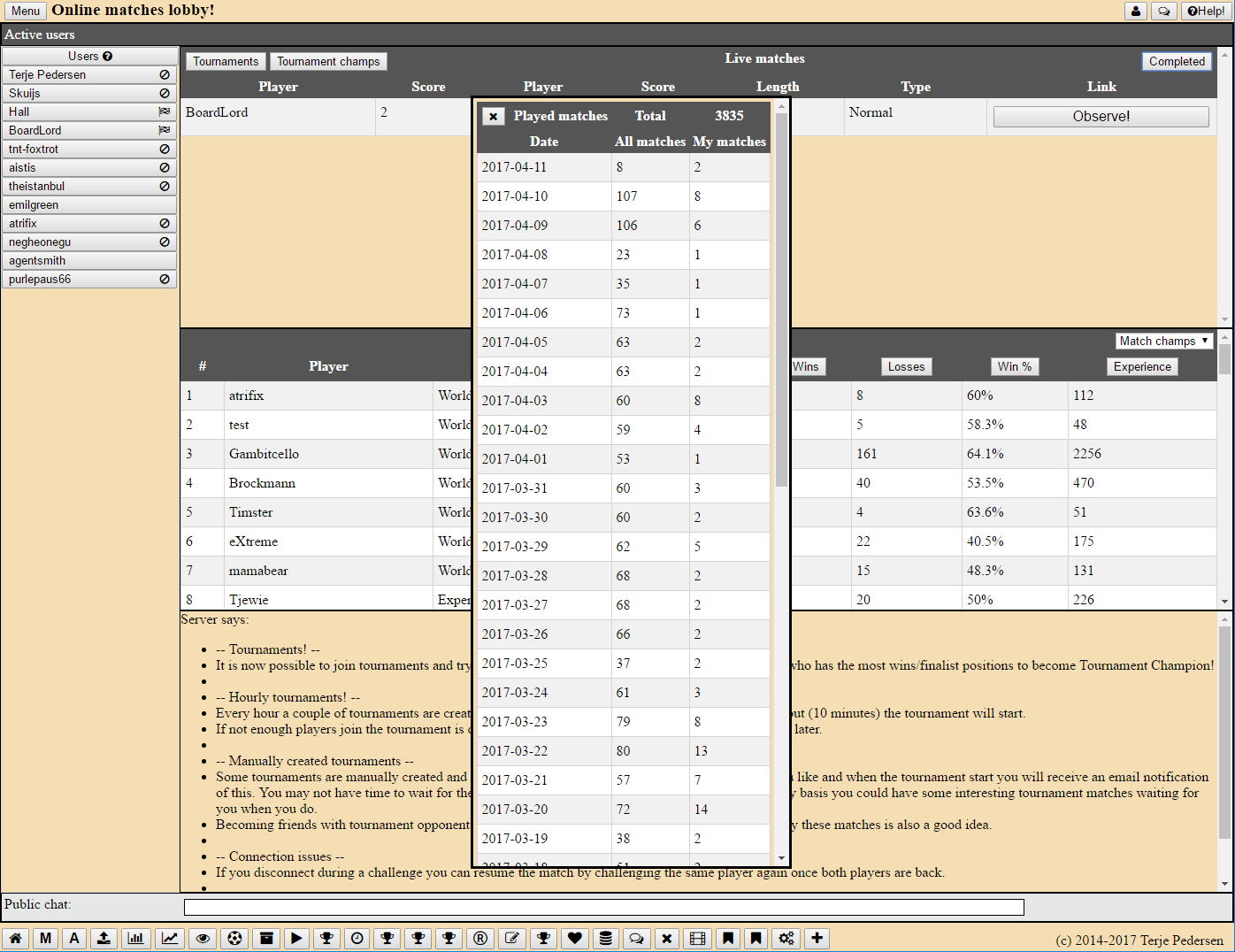 Over 3800 matches played on Backgammon Studio! Awesome!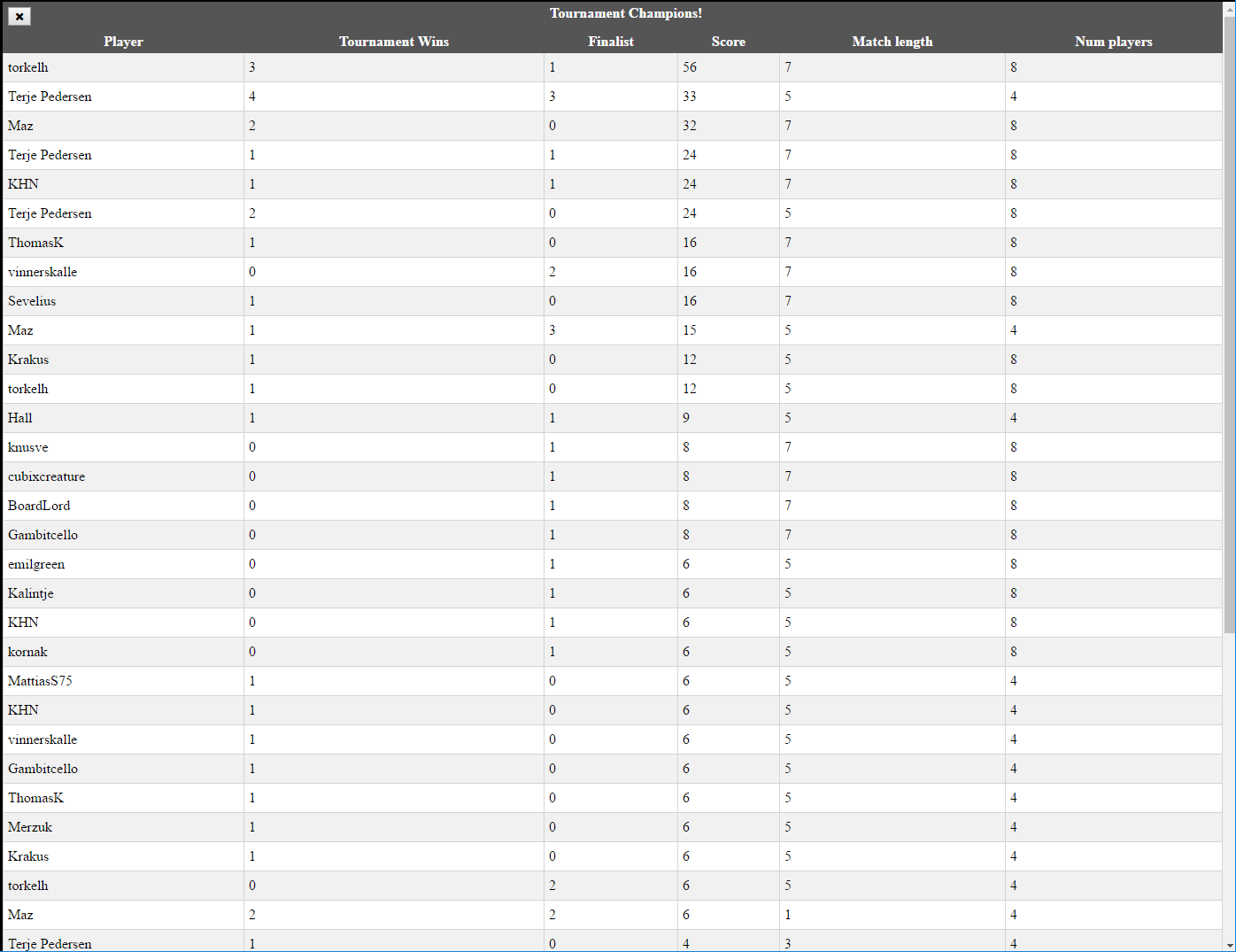 There is a new Tournament champ in town and it isn't me! Sux! Must fix!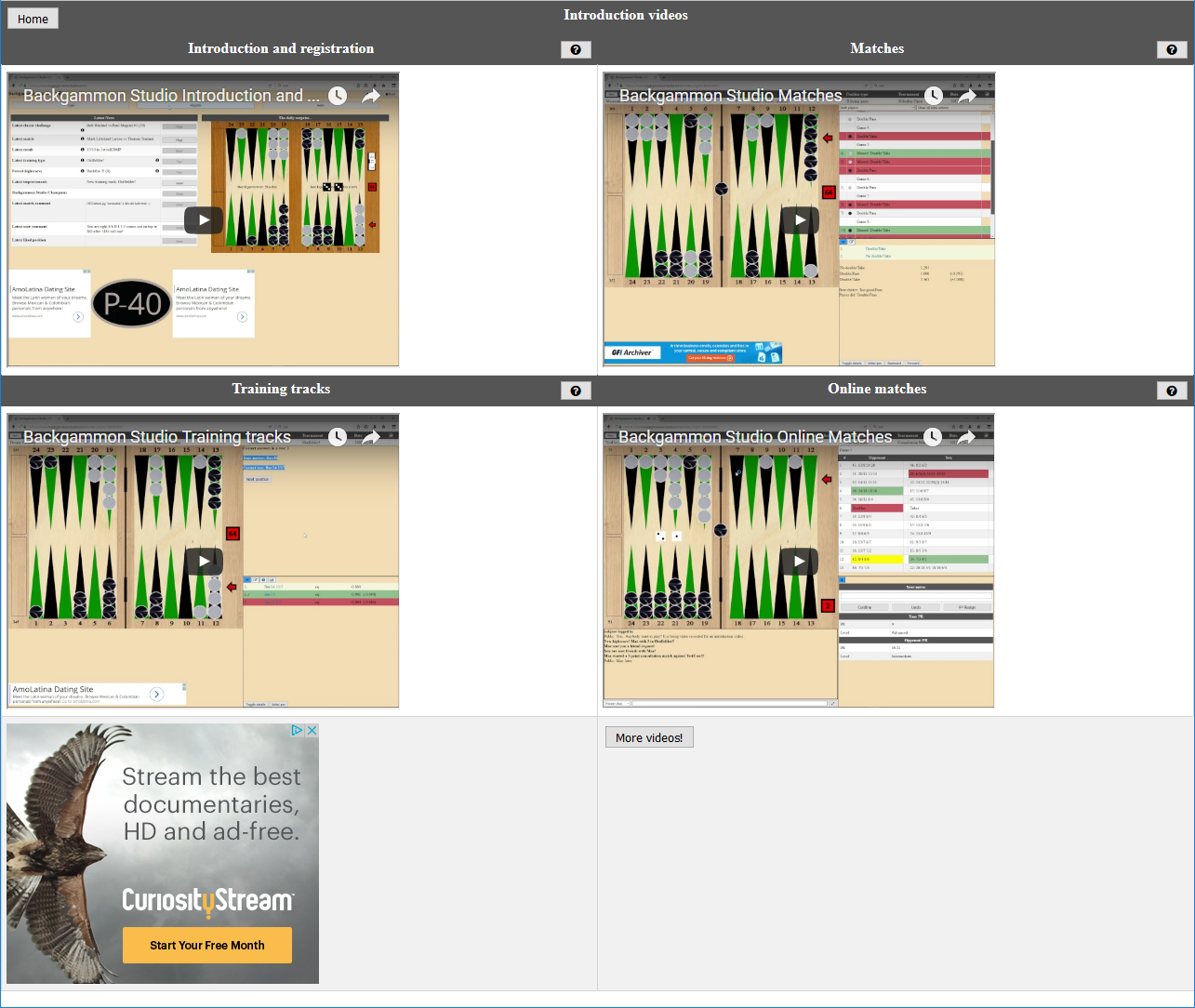 I have made a few (32+) introduction videos on different sections on Backgammon Studio.
All in all I think Backgammon Studio is making good progress but now it is time for Nordic Open! Oh yes!

https://www.backgammonstudio.com
The swiss army knife of backgammon!
Best regards,
TP