こんにちは
Another Backgammon Studio version! 4.8! I am hard at work making Heroes even better but I somehow find time to add the odd improvement to the old server now and then.
Best news is perhaps that the non premium restrictions have been lifted somewhat and you can now try every training track (over 100!) and see if you can land a good score! Much harder than it sounds! 。
Backgammon Studio 4.8
Improvements since 4.7:
New section:

Youtube matches: Browse youtube channel (only USBGF for now) in an elegant manner with option to search for videos without getting a lot of unrelated videos.
Hitcount challenge: Count number of hits as fast as you can!

New training tracks:

Tactical 6! - Giving up the 6 point when you still have checkers in the 4th quadrant can be surprising but sometimes it has tactical advantages.
Last cube! - Short bearoff cubes.. Last chance to cube or maybe it isn't?
Missed! - Missing cubes can be costly but you don't want to give your opponent an easy cube either...

New actiontags:

Hit and make board point or doublehit - Hitting and making another board point is often tempting but hitting two checkers can also be very strong.

Other improvements:

You can now see who the 5 players are that is included in the top 5 countries highscore list.
There is a search option in Training tracks list. Start typing and fewer entries will be displayed.
There is a better search option in the player overview section.
The non premium restriction on training tracks has been lifted. Try any you like but only once per day for non premium users.
Top 5 countries for individual years is also possible to display in the player overview section.
You can share positions in 3 different ways: Facebook, Twitter and email.
Some restrictions has been put on playing matches without logging in after some automated scans were detected.
Replay from rollout rumble.
Equal plays.
Added superspeed tag in matches list.
Added practice tag in matches list.
Option to delete position in private database.
PR matrix.
Hide comments when answering questions (non premium shows ad).
New ad area for non premium users!
Fix problems with search and play order.
Show icon for searching for user (A dropdown with 3000 player names is impractical to use) when searching for positions.</l>
Increase entry limit when searching for positions.

Bugfixes:

The use of 'biggest error first' didn't work when viewing searched for positions.
Some training tracks were not tagged as cube tracks so they wouldn't display if you selected to show only cube tracks.
Fix not flipping position in image generation.
Hit on ace is also done when making point and hit.
Fix board scale up when going fullscreen.
Quck access bar too tall.
Some query values didn't persist.
Fullscreen toggle and keyboard focus icon not useful on mobile/tablet.
Setting top/down ratio on tablet didn't work.
Some images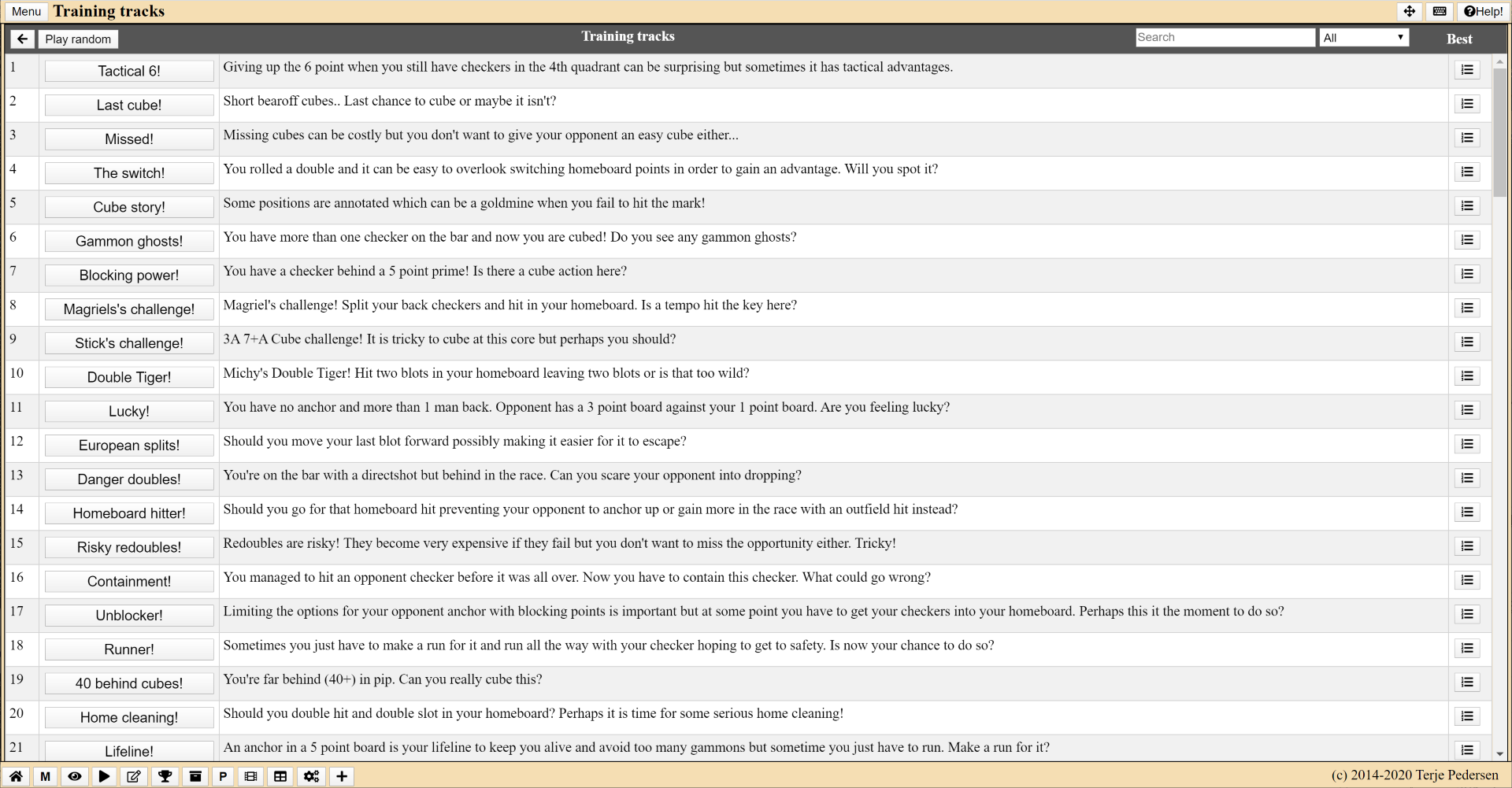 One change I did which I see I haven't included in the above list was that the top 5 countries list incorrectly put Denmark at the top as the national team which also had the danish flag set had played enough matches (5) to be included in the list. Japan is back on top!

It is also possible to see which players are included in the calculation. And you can also get the top 5 countries for a particular year if you have selected a year in the year dropdown before you open the top 5 dialog.
And Mochy has reached 600 matches in the database! Now that is a number to beat!

In other news
A couple of months before new year I saw that there were over 1000 matches to go before beating the number of transcribed matches in the database for 2018. Looks like I had no reason to worry as 2018 has been crushed by 2019 by a good margin!

Thanks a lot to everyone who shares their transcribed matches!
Feedback
Do you love/hate some of the changes that are done on the server? Don't hesitate to let me know as my mindreader skills sux!

(Email me is perhaps best or private chat on Heroes).
Backgammon Studio
The Swiss Army knife of backgammon!
Backgammon Studio Heroes
The Rolls Royce of online backgammon!
Best regards,
TP